May 28, 2009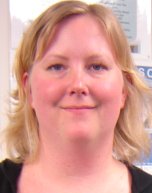 Maria Bjornfot, a Social Work student from Sweden, came to spend three weeks with the Barnardos office in Waitakere as part of her study. While she was there, Annie Gordon took the opportunity to ask her about her experiences growing up in Sweden, with particular reference to Sweden's child discipline law.
Annie: Maybe you could start by telling us briefly why you have chosen to be here in Waitakere at Barnardos at this time?
Maria: I have a great interest in children and social work so I was very happy when you accepted me at your agency. When I had the opportunity in my social work studies to go where ever I wanted in the world it was an easy choice. I have always been interested in how it looks and feels to be on the other side of the world. And the Lord of the Ring movies with all the beautiful sceneries contributed to my great interest in New Zealand.
Your situation is very interesting to me in that you come from Sweden and were born in 1979, the year of the law change regarding physical punishment of children. Can you tell us something about the ways you were disciplined when you were growing up?
When I grew up in Sweden the child discipline law had already changed and what I can remember of my childhood was more threats of physical punishment rather than being hit. But sometimes I remember my father took me by my ear or grabbed my hair. That was in the early days when the law was still new. In my later years I can't remember any physical punishment for me or my brother. Of course we argued but it was more reasoning by my parents and if we had tantrums they ignored us or left the room.
Was this a typical situation for children at that time?
I think so, for most people it was a gradual change.
How would you say your experience differs from how children are disciplined in Sweden today?
Today in Sweden we have developed different strategies in child discipline. There is very little physical punishment that you hear about. We still are talking a lot about parenting issues though. Parents in Sweden today are struggling between full time work, their own hobbies and giving their children attention. Parents try very hard but don't find time enough for everything. This often leads to parents feeling very bad about themselves, and to compensate they let their children do anything they want and this can also be a problem and has become a big topic of conversation.
Is there much or any opposition to the child discipline law in Sweden anymore?
No, not at all, although we still sometimes have the older people talking about the early days [before the law change] that children had more respect back then. But I think older persons are like that all over the world, afraid of the new things that happen.