Posters
Papaki Kore – No Smacking (Te Kahui Mana Ririki)
If looking after kids is getting on top of you, here are six simple steps you can take to encourage good behaviour in ririki

21 Practical Alternatives to Smacking (Barnardos)
There are better ways to manage kids' behaviour than hitting them. This friendly poster gives you tools to help you when the going gets tough.

The Yes Vote flyer
The key messages from the campaign on one A4 page.  Download it, print off copies, and post them far and wide! Perfect for waiting rooms, public billboards, and distributing at meetings.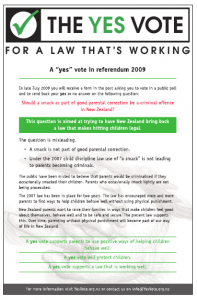 Stickers


Please note: if you plan on distributing significant numbers of copies of any items from this site, please let us know so that we can include these items in our electoral return of expenses.  See the notes under "Legislative requirements" in our Legal Disclaimer for more info.
Unfortunately, we don't have the resources to post these items out to people, but you are free to download them, print them, and use them in whatever responsible way you see fit.  Depending on stock levels, you may be able to get these items from your local Barnardos office.
[contact-form]